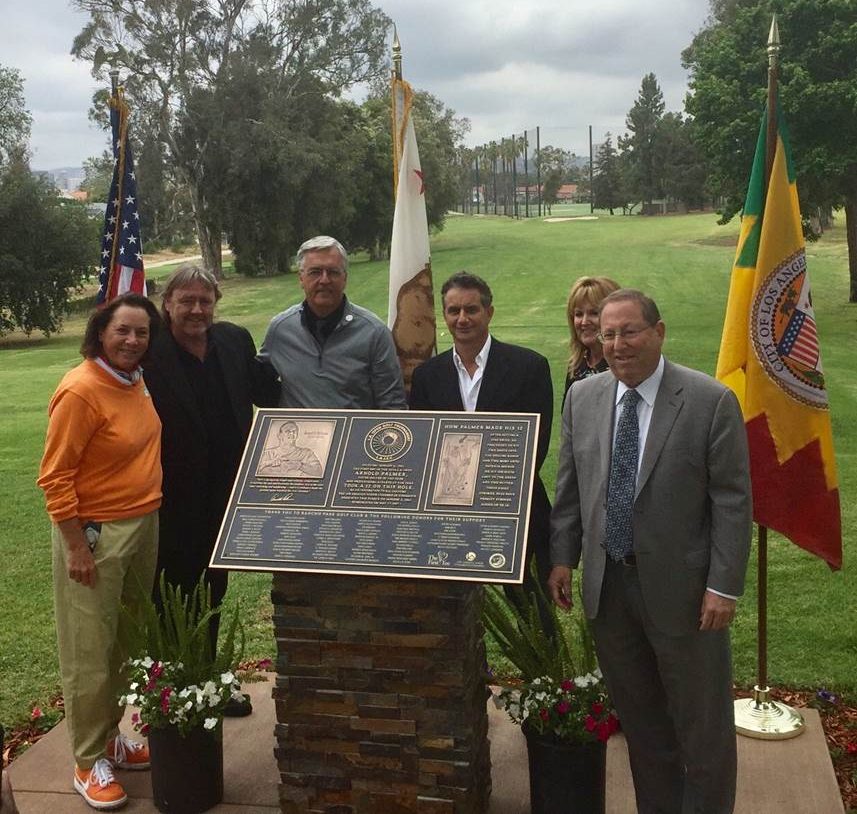 On Wednesday last, a new Arnold Palmer plaque was dedicated, commemorating his score of 12, on Rancho Park's par-five 18th hole, during the first round of the 1961 L.A. Open.  The original plaque was dedicated in 1963, and later stolen. A replacement "stone" was installed by the Recreation and Parks Department.
This beautiful new plaque, designed by graphic artist and Rancho Park golf club champion, Ed Passarelli, is the permanent replacement, being a combination of a re-creation of the original plaque, plus a map of the hole, with a description of the strokes taken by Mr Palmer, plus an embossed photograph.
The idea for replacing the replacement of the original plaque, and the execution of the plan to use it to raise money for junior golf, was all Phil Baugh, of the First Tee of Los Angeles.
Arnold would be proud.
After her speech, golf legend Amy Alcott, tee'd up a ball, and played the 18th, with a gallery of supporters and guests, making some beautiful strokes, and easily scoring a par 5, with never an inclination of the "heart warming" 3-woods that Arnold experienced in January 1961!
From left to right in the photo:
Amy Alcott – LPGA & World Golf Hall of Fame member
John Jones – Rancho Park GC Historian & Grammy Award winner
Phil Bough – ED LAJCC Charity Foundation/The First Tee of Los Angeles
Ed Passarelli – Plaque Designer
Laura Bauernfiend – Golf Manager, LA City Re & Parks
Paul  Koretz – Councilmember, 5th District