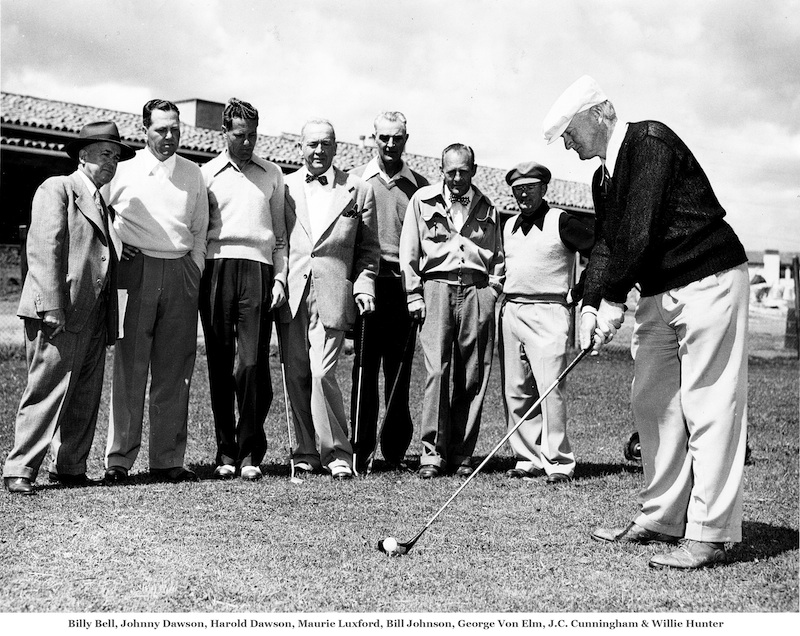 Here is a group of Southern California golf legends posing on the 10th tee of the new Rancho golf course, on that magic day in 1949 when they first rated the course!
An article from the Los Angeles Times from March 24, 1949:
The new Rancho golf course received its baptism of fire yesterday when eight local links expert tested the course for the first time.
The purpose of their play was to give the course a handicap par rating and also to list the holes in order of difficulty for the score cards. The course will not be opened officially until it is the scene of the National Public Links championship July 11-16. The links will be available for public play following that time.
Wille Hunter, pro at Riviera, and Johnny Dawson, Lakeside amateur, scored 70s yesterday. Harold Dawson, executive secretary of the Southern California Golf Association, and a 7-handicap golfer, scored a 77. J.C. Cunningham, a public links official and a 12 handicapper, scored 82 and Bill Johnson, L.A. city golf course manager, a 16 handicapper, had 87.
Others in the group did not play full rounds. They were Maurie Luxford, president of the City Recreation and Park Commission; George Von Elm and Golf Architect Billy Bell.
Course Rated
Johnny Dawson gave the course a par rating of 70.9 and Harold Dawson rated it 70.7. The actual par will be 71. The second hole, 445-yard 4-par, was judged the most difficult and the 16th, a 179-yard 3-par, rated the easiest.
Rancho, at Pico Blvd. and Patricia Ave., is on the site of the old Rancho course, which has been closed for several years.
Transcribed by J.Jones, Rancho Park Golf Club historian.
1949 Rancho Golf Course Opening Score Card
© 2018 golfhistoricalsociety.org & J.I.B. Jones.