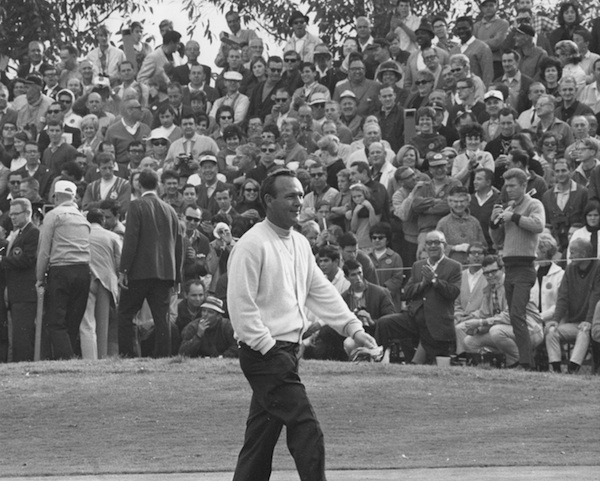 The Rancho Park golf club, and the golfers of Los Angeles and the World, are sad to hear of the passing of our greatest champion, Mr. Arnold Palmer, on September 25, 2016.
Arnold Palmer will always be remembered on our fairways for his booming drives and personality. With his "army" on his side ("they arrive at dawn to cheer on their general"), Arnold won the Los Angeles Open at Rancho three times: 1963, where he came from three strokes behind to win : 1966, where he shot a course record 62 : 1967, where he won by five strokes.
But, before those wins, the number-one golfer in America scored his infamous 12 on the fence-lined 18th hole at Rancho in January 1961, and missed the 36-hole cut. This single hole had a lot to say about the man, who, when asked how he did it, said, "I missed the putt for an 11".
A plaque was placed on the tee of the 18th in 1963, to "commemorate" the humility of our greatest golfer, and every time he played the course he stopped and had a look at his plaque. In later years he said, "It is difficult for me to play that hole without thinking about the 12…it's the first thing you see when you walk onto the tee."
53 year old Arnold Palmer played his last Los Angeles Open at Rancho Park in 1983, where he was followed by thousands of fans, one even falling out of a tree. On the final day he was ten under par, and one shot out of the lead, but his putter let him down and he finished 10th.
Mr. Palmer returned to Rancho in 1990 for the L.A. Senior Open, and to take a final bow for his L.A. army. When asked about the 12, he said he would play it the same way he had done in 1961.
"I think you could say there was no lasting effect. I won the next two tournaments on the tour and then had three winning tournaments at Rancho in future years. I've always enjoyed playing there." His last Los Angeles open at Rancho was in 1992, when he scored 74, 69 and 67.
This year we have been working with Mr. Palmer and the First Tee of Los Angeles to restore and remount the plaque at the 18th tee. The original bronze plaque was stolen many years ago, and a reproduction of the original, along with a relief of Arnold, and the names of the donors, will be installed at the time of the Los Angeles Open next February.
Long live the King!