by J.I.B. Jones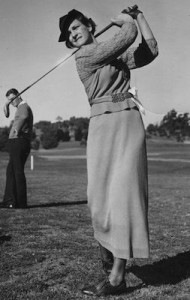 Babe Didrikson, circa 1937
In the summer of 1933, Babe (what a girl!) Didrikson joined the Rancho Golf Club in Los Angeles and played in many club and local women's amateur competitions until 1935, when the U.S.G.A. deemed Didrikson a professional. As she was unable to find professional women to compete against, she was forced to enter professional male golf tournaments, and play in exhibitions. In 1935-36 she toured with superstar Gene Sarazen, Johnny Dawson, and other stars of sports and movies.
Gene Sarazen and Babe Didrikson in 1935
Babe's first professional men's golf tournament was the Southern California Open, in 1936, at the Oakmont Country Club in Glendale, California, which she entered as an amateur. This was the first event of the Southern California 1936-1937 winter professional golf campaign, later known as the Gold Trail. Babe did not have to qualify to enter, but she missed the 36 hole cut. George Von Elm won the trophy.
George Von Elm at Oakmont Country Club during the 1936 Southern California Open
Didrikson tried and failed to qualify in the amateur division for the 1937 L.A. Open, at Griffith Park, but in 1938, a year with no qualifying, she entered as an amateur, and played the first two rounds with her future husband, George Zaharias. George shot 83 and Babe 84. Babe also failed to qualify for the 1944 L.A. Open at Wilshire C.C..
In 1942 the USGA finally accepted her as an amateur, and she went on to win the Women's U.S. Amateur in 1946, the British Ladies Amateur in 1947, and three Western Opens. Babe was a founding member of the Women's Professional Golf Association in 1944, and the Ladies Professional Golf Association in 1950.
In 1945, the L.A. Open was not a regular tour event, and was played for War Bonds by both professionals and a sprinkling of amateurs. Babe qualified for the amateur division at Fox Hills golf course. She played three rounds in the Open at Riviera C.C., missing the low 61, final round cut. She also qualified and played in War Bond tournaments in Phoenix and Tuscon.
Babe Didrikson never entered or played in the Los Angeles Open as a professional golfer. She played as an amateur in competitive golf competition from 1933 until 1947, after which she "turned" pro. Her years in the wilderness from 1933 to 1942, due to the U.S.G.A.'s policy of treating any professional athlete as a professional golfer, has continued to confuse historians for decades.
---
Written by J.I.B. Jones – All Images by J.I.B. Jones
©Copyright 2016 by golfhistoricalsociety/jibjones
Not to be reprinted without permission.
golfhistoricalsociety.org
---